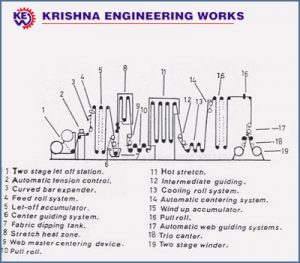 ---
Krishna Engineering Works is a leading manufacturer and exporter of Equipments Tyre Cord Dipping Plant, Tyre Cord and Technical Textile Fabric Dipping Plant/Machine and equipments with meeting the highest performance, safety, environment and cost criteria. Equipments Tyre Cord Dipping Plant, it is designed for excellent quality of tire cord fabric for all categories of tyres. Our plant is running at a very high production speed, dipping is final and most important stage of tyre cord fabric manufacturing and we are dealing on innovative constructions for a longer tyre life. Stronger wires and new cord constructions that lead to lower costs, lower weight and fuel savings. Equipments Tyre Cord Dipping Plant are:
1. Two Stage Let Off Station : Two Stage Let Off Station in Tyre Cord Dipping Plant. Let Off Station, the first step to perfect and accurate treatment
---
2. Automatic Tension Control : Automatic Tension Control, featuring as measurement rollers with highly sensitive load cells. High precision tension control
---
3. Curved Bar Expander : Curved Bar Expander, designed for tyre cord dipping machine. The Duo expander spreads the fabric in low-tension zones by
---
4. Feed Roll System : Feed roll system in tyre cord dipping machine works on important part. Feeding the line by unwinding the fabric, also the
---
5. Let-Off Accumulator: Let-Off Accumulator has important role in dipping machine. Fixed dual stations or turret type unwinders with brakes drive
---
6. Center Guiding System : The centre guide makes sure that the fabric is guided down the centre of the line. The fabric is centred by the rollers moving
---
7. Fabric Dipping Tank : Fabric Dipping Tank designed and built for premium quality of fabric. Low liquor dip tanks, sized to minimize dip solution
---
8. Stretch Heat Zone : The radial blowers circulating the air in the treatment chamber are directly coupled to inverter controlled AC motors to
---
9. Web Master Centering Device : Web Master Centering design and built in Tyre Cord Dipping Machine for highest level of accuracy. Also, with digital and analogue
---
10. Pull Roll : It is featuring as extremely compact digital position controller pull roll
---
11. Hot Stretch : Our Tyre Cord Dipping Machine works accurately on fabric for hot stretch function. Hot stretch consistently uniform heat transfer
---
12. Intermediate Guiding : Intermediate Guiding has built for effective accuracy. Also, guiding can be done by web edge or centerline. Also, webs are
---
13. Cooling Roll System : Double shell cooling rolls are provided to cool the web. It works accurately after the oven with the cooling water moving in
---
14. Automatic Centering System : Krishna Engineering Works has designed tyre cord dipping plan with automatic centering system for highest accuracy.
---
15. Wind Up Accumulator : Wind up accumulator featuring with International standard of accuracy. Including unique and high quality features Winds up
---
16. Pull Roll : It is featuring as extremely compact digital position controller pull roll
---
17. Automatic Web Guiding Systems : Our Tyre Cord Dipping Plant designed with high quality Web Guiding System. Featuring with correct the web path and removing
---
18. Trio Canter : Tyre Cord Dipping Plant built with premium quality of Trio Canter. The Trio Canter prevents increased cord density at the edges
---
19. Two Stage Winder : Two Stage Winder is important part in Tyre Cord Dipping Plant. The precise surface winders produce rolls with required
---