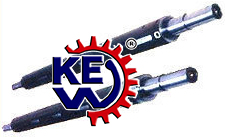 Standard Feature
Expandable Shaft
MECHANICAL SHAFT (BLADDER LESS SHAFT):
This is a lug type shaft but core holding is initiated mechanically and not pneumatically. This Expandable Shaft mainly consists of slotted pipe, steel lugs, brass cam, ratchet etc.
We are Air Shaft, Expandable Shaft, Pneumatic Shaft, Air Chuck manufacturers are capable of taking any challenge arising out of heavy load and speed. It is possible only because of positive gripping and core centering achieved without any extra efforts with the help of cam/lug design. It is very much advantageous with cores having uneven inside diameter. Key and alien-cap bolt prevent any shearing of journals – pipe assembly. Air Shaft manufacturing for Slitting Machine.
Sizes:
Suitable for Core ID. 3″ and 6″
Length as per requirement
QUICK LOCK SHAFT:
Economic model for Re-winder shaft having all the advantages like slippage, accommodating gauge variation, smaller core width etc. With only limitation of time needed for repositioning of the core. This shaft is suitable for Paper Cores.
 Sizes:
Suitable for core I.D. 3″, 4″ & 6″
Length as per requirement
Individual Quick Locks are also available having width of 50 mm, 75 mm, 100 mm and 300 mm. The bore of Quick Lock is tailor made.
MULTI-TUBE SHAFT:
In case of failure of bladder, though having least chance, shaft can hold the core till the process complete.
Damaged bladder can be changed easily, even on the machine.
Expanded area is available almost all over the length of pipe body. Very small width of the cores is possible to hold.
LUG TYPE EXPANDABLE SHAFT :
This is a very commonly used shaft. It mainly consists of slotted pipe, journals to suite users machine, lugs, rubber bladder and non-return valve.
Sizes:
Suitable for Core ID. dia 3″, 4″, 6″, 8″ (metric size and special sizes also produced).
Lengths as per customers requirement
LEAF TYPE AIR EXPANDABLE SHAFT :
This type of shaft mainly consists of slotted base pipe, metal leaves with knurling/serration, rubber bladder, non-return valve and suitable journals.
This type of shaft can be used at unwind station, but mainly used at rewind stage for advantages like:
Narrow width of core
To prevent damage to thin cores (100 % support available to the core ID.)
At times core-less winding is also possible
 Sizes:
Suitable for core ID. 3, 4 and 6 (metric size and special sizes also produced).
Lengths as required
Technical Specification
Sizes:

Suitable for core ID. 3″ and 6″.
Length as per requirement.

Capabilities:

Load up to 2 tons.
Suitable for Core l.D. dia 3", 4", 6", 8" (metric size and special sizes also produced).

Length as required.

Speed up to 1000 mtrs/min.
Suitable for core materials: Paper, Steel, Thermoplastics.
Minimum core width 20 mm.
General Materials of Construction:
Pipe – Steel
End Generals – Steel – simple or hardened
Cam – Brass
Lugs – Hardened Steel / Rubber
Video
Quick Inquiry