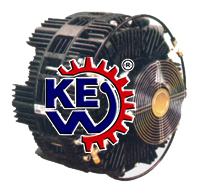 ---
Standard Feature
Pneumatic Brake
Pneumatic Brake of various sizes and types are available to fit any applications.

They are simple to use, easy to replace worn out brakes pads.
Brakes come fully assembled, ready to fit and easy mounting.
These brakes are mainly used as actuators for Un- winder applications.
POWDER BRAKES:
Briefly, the coupling comprises of two concentric parts, the body or input part containing the field coil within it, separated by small annular gap, an inner rotor, or out put part.
The annular gap contains a ferromagnetic powder, which is activated when the coil is energized.
The resultant flux which is generated , passes through the powder , causing it to align with the flux path , and there by creates a driving bond between input and out put part , the strength of which is solely determined by value of D.C. current applied to the field coil .
Technical Specification
Air Turner Bar Systems are designed and manufactured to suit customers' particular application. There are six sizes for 90° entry or 180° turnover, with web widths ranging from 100mm to 3 meters, for horizontal or vertical mounting.
The units are built as freestanding or bolt-on modules, complete with leveling braces and bolting down holes. They are designed to suit existing machine and site conditions.
The framework is rectangular hollow section with specialized corner bracing incorporating the fine adjustment mechanism and mounting for the Turner Bars.
Bars are tubular steel with bell mouth air holes, ground, polished and hard chrome plated. Air blow creates an air film assist to the bar.
By choosing appropriate mounting positions, a variety of configurations can be obtained to enable a choice of entry and exit requirements.
Path rollers are normally aluminum, statically or dynamically balanced.
Air for flotation requires 5 CFM per 100mm web width at 10ins to 18ins W.G. depending on web tensions.
Fans direct mounted on each Turner Bar can be supplied at the time of manufacture (option). For narrow web widths and special applications air flotation holes can be reduced for using compressed air or arranged as required.
Video
Quick Inquiry